You've seen something you like on our website, but you want to see and touch it in person, and look at what else we might have before spending your hard earned cash. We get you.
Online shopping is good, but sometimes it's not the same as seeing, touching and smelling our furniture in person.
The only trouble is, you live miles away.
Here's an idea: why not combine a visit to see us with a day trip to Brighton (or even a whole weekend) and spend some time in this hub of food, culture, and all things fabulous?
Read on for our insider's guide to the best places to park, where to eat, and what to see and do while you're here.
The Royal Pavilion was built as a pleasure palace for George IV

As the tourist office says, Brighton is a great place to visit:
"From iconic Brighton tourist attractions to beachfront cool, Brighton is a treasure trove of things to do and places to go. Vibrant, colourful, fun and free, Brighton offers the energy of the city and freedom of the sea. It really is unique."
If the idea of a trip here tickles your fancy, this might help:
• We're open 7 days a week
• In the immediate vicinity to our shop and on the same street, are a plethora of independently owned shops including clothes, children's wear and toys, a good Oxfam bookshop, a beauty salon, cafes, fish n chips, and a DIY shop that has everything you could ever need.
• Hove's pedestrianised George Street is round the corner with lots more cafes, a couple of pubs, and plenty of other shops.
• The sea is just a 10 minute walk away.
• The centre of Brighton, with its boutiques, cafes, restaurants, quirky alleys and buzzy streets is a 10 minute bus ride or 30 minute walk away.
We took a poll in the office and came up with the best set of insider top tips from us locals of what to see and do while you're here, and how to get around:
GETTING HERE
• Our Top Tip: take the train, Hove station is 10 minutes walk away and we can deliver to anywhere in mainland UK.
• If you do drive, follow the signs from the A23 to Hove: at weekends the main roads into Brighton are often jammed, which can make for a stressful journey. The roads into Hove are much clearer.
• Buses around the city are pretty good – a centre fare (which starts at Hove Town Hall) costs £2 one way, a day saver for unlimited bus travel in the city is £5. Download the bus app and buy tickets on your phone for cheaper fares.
• Walking into Brighton along the seafront takes about 30 minutes. Glorious when it's sunny.
• How about renting a bicycle for the day? Cycle Brighton (close to Hove station) hire out good bikes, with rates from just £10 for 3 hours.
Brighton bus with a Festival makeover
PARKING
If you are driving, here's our top tips on where to park nearby:
• It's meter parking in our street for £1 per hour, 2 hours max.
• Tesco's car park is just a few minutes walk away with 2 hours free 'for customers' – they don't seem to check whether you buy anything.
• Waitrose on Western Road (closer to the centre of town) – park here for free for 90 minutes when you spend £10 with them.
• Have a look at parkopedia.co.uk – they have advice on where to park and how much it costs, including private parking spaces you can hire.
Marrocco's Italian ice cream is the best in the city
WHERE TO EAT
There are lots of good places to eat within spitting distance of our shop:
• Hidden Pantry – directly opposite, with good quality, organic, free range lunches from £4.95. Tell owner Malik you came via JUGs and he'll give you a 10% discount.
• First Cup – just opened, a few doors along from us. Big portions good prices. Russ says highly recommended for sandwiches and salads.
• Treacle and Co – the best cakes in Hove, opposite the big Tesco's. Indulgent homemade yumminess and friendly service.
• Marrocco's for ice cream on Hove seafront – the best in the city. Watch out for queues on the weekends though!
Brighton fishing museum on the seafront is worth a visit
Other cafes we recommend:
• Brighton Fishing Museum Café (next to fishing museum between the piers) – run by Rob, our friend, surfer and sometimes JUGs shop assistant. Say we sent you and get a free chai latte when you buy a slice of his award winning cake.
• The Meeting Place – outdoor seating right on the seafront, next to the Peace Statute that marks the old boundary between Brighton and Hove.
• The Dorset – a busy, friendly pub in the heart of the North Laine.
Blackbird Tea Rooms for a fifties style cream tea
BEST COFFEE & TEAS
There's a lot of local discussion about which of Brighton's many cafes serves the best coffee. This is what we think:
• Small Batch – an independent business, there are a few around now, the closest is near Hove station, or on Wilbury Road. There's one right in the centre of Brighton too.
• Moksha – opposite St Peter's Church, a hang out for local creative types.
• Marwoods – a hidden gem in the Lanes. Quirky and amusing décor that changes often, with outdoor seating at the back and good coffee.
• Blackbird Tea Rooms – for a lovely vintage style cream tea in the heart of the North Laine.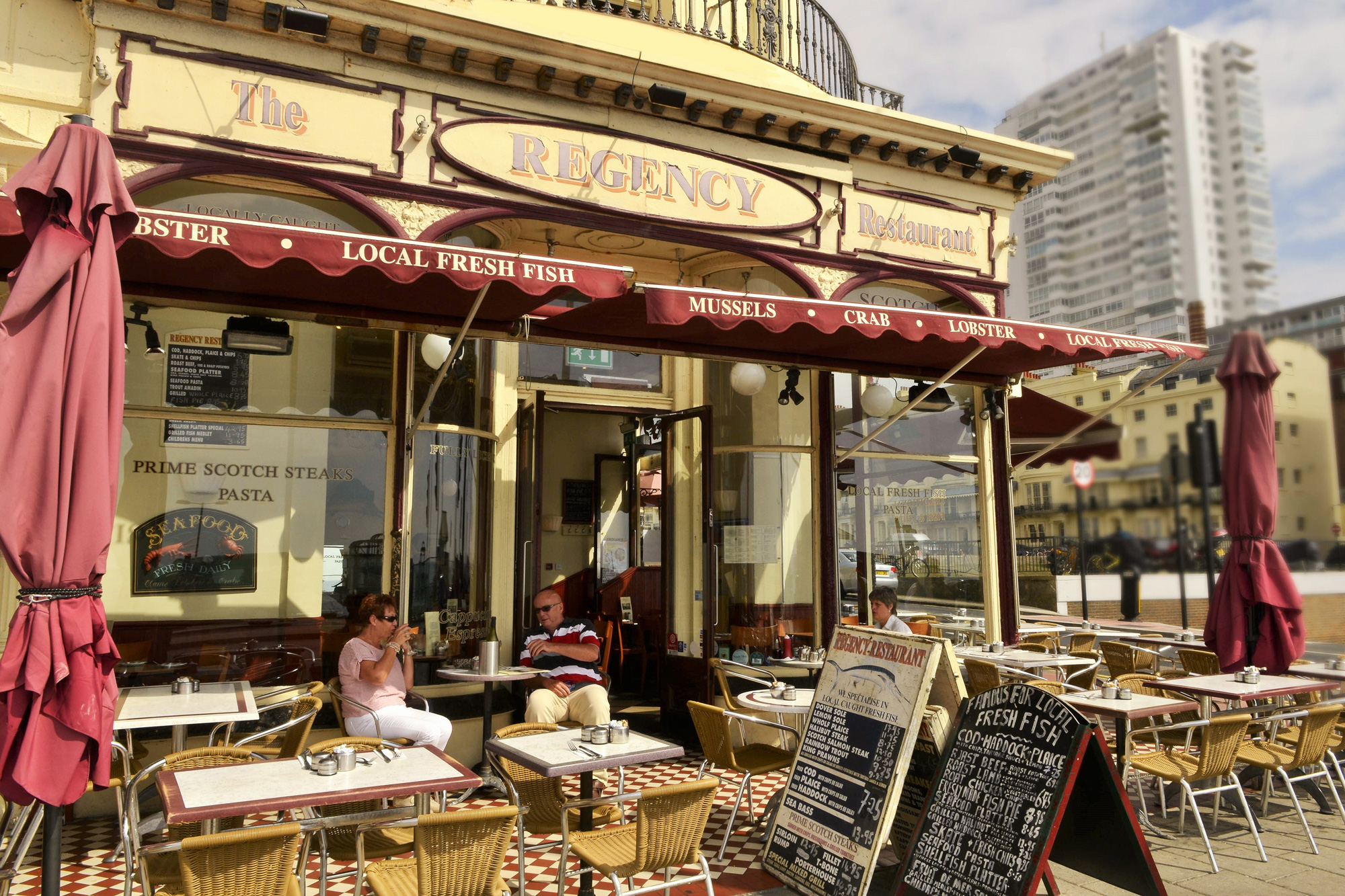 The Regency, one of Rick Stein's favourite restaurants in Brighton
RESTAURANTS
Brighton has a big choice of places to eat for all budgets in a small area, so if you want a good lunch or dinner, whatever you want, you'll be spoiled for choice.
Here are a few of our local faves:
• Giggling Squid – great Thai food in central Hove.
• Othello's – a local family friendly Italian pizza place.
• Modelo Lounge – relaxed, big tables, very reasonable varied menu with meat, gluten free and vegan options.
Indian Restaurants
If you're looking for a good curry in Brighton – we do sell furniture made in India after all – these are the best ones in the city:
• Curry leaf Café – good Indian food with a modern twist, there's one in the Lanes, and one inside the Temple Bar (near Waitrose).
• Planet India – family run, authentic Indian food. It's vegetarian but if you're a meat eater, don't be put off by that: the food is really good. Great value.
• Indian Summer – for south Indian food in a smart setting, in the heart of the Lanes.
Other restaurants we recommend:
• Iydea – good veggie lunches, in the North Laine.
• The Regency – for great fresh fish and chips. Reputed to be Rick Stein's favourite restaurant in Brighton, right by the West Pier.
• La Choza – popular and good value Mexican in the back streets of the North Laine.
• Plateau – French small plate dining, with exquisite ingredients and one of the best wine lists in the city.
PUBS AND BARS
Brighton has an amazing amount of pubs and bars (Hove actually has quite a few too), supposedly one for every day of the year. From small cosy Victorian front rooms, converted churches to large theme pubs, there's one for every conceivable taste. Here are just a few that we like:
• The Urchin – seafood gastro pub close to our shop, you might spot Russ in there at lunchtime.
• The Foragers – also not far from us. Some of the menu is foraged, and the beer is good.
• Lion & Lobster – popular busy pub with good food, good beers and good staff.
• Fortune of War – right on the seafront. Sit in the window for the best view of the sea.
Find all sorts of real wood, reclaimed and vintage furniture in JUGs
SHOPPING
Brighton & Hove is full of independent shops and boutiques that you won't find anywhere else.
• JUGs Furniture – the best shop in Hove, of course.
• RUN – the best running shop in the area is next door – tell Kurt we sent you.
• George Street, Hove – this pedestrian street is full of cafes and food places. Sit outside when it's sunny. No cars make it pleasant.
• Visit the North Laine for quirky boutiques, and the Lanes for jewellery, homeware, clothes and antiques, Julien Plumart's French patisserie, and the now world famous Choccywoccydoodah for extravagant chocolatey deliciousness.
Brighton's iconic pier is a fun place to visit
PLACES TO VISIT & THINGS TO DO
Apart from food, drink, shopping, and just soaking up the atmosphere, there's more!
• The Seafront – from Hove prom to the new boutique shopping quarter by the i360, the basketball and volley ball courts, the sailing club, right up to the pier, the seafront is steadily improving. The sea is different every day and it's a great walk. Bracing in winter and buzzing in summer.
• Brighton Pier – full of arcade games and slot machines, but great views. No visit is complete without playing Dolphin Derby.
• i360 – tallest viewing tower, it should be opening this year.
• Sea Life Centre – check out the seahorses and the stingrays.
• Pavilion Gardens – there's a nice outdoor café, and performers and musicians play for your pleasure.
• Royal Pavilion – Brighton's iconic palace, beautiful inside especially the music room and the banquet hall.
• Madeira Drive – throughout the summer, all sorts of vintage car and vehicle rallies happen at the weekends.
• Brighton Marina – the largest marina in Europe, with lots of shops, cafes, and restaurants overlooking the boats. You could take a fishing trip or learn to sail.
And if you fancy staying here for a few days, from sea views to roll top baths, make your stay at the seaside postcard perfect at one of Brighton's many hotels or guest houses.
Blanch House use our furniture in one of their themed rooms
WHERE TO STAY
• Blanch House – the original boutique hotel. Themed rooms. You might spot a celeb in the bar.
• Pelirocco – Brighton's original rock n roll boutique hotel.
• Check lastminute.com for others, or have a look at
• Airbnb – there about 300 places to stay in Hove, often can be booked last minute from about £30 a night, though many have a 2 night min stay.
&nbsp:
And if we still haven't persuaded you to visit, you can always ask us to send you more photographs of the pieces you like!