Sunday 18th March 2018
What a lovely way to start what should be a lazy Sunday morning. We are off to the factory like usual, I don't really take note of what day of the week it is when I'm here. But on route our driver makes a stop to collect our good friend and supplier (as we have to do since his car was written off on our first day!) But this morning we have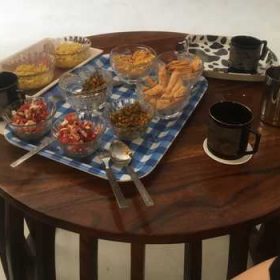 been invited in for tea! I love these bits of my journeys, seeing into the real lives of the people we have grown to call our friends.
As per most Indian families many of the extended family live in this house altogether. There are the older parents, who have two sons, their wives, and each have two children still living at home. 10 family members in total in this household. They are all so welcoming and quickly begin to run around us bringing out snacks and making us tea. There are about 6 different snacks in total, with the lovely daughter keen to offer me some 'Maggi' which is popular amongst youngsters I have been told. Not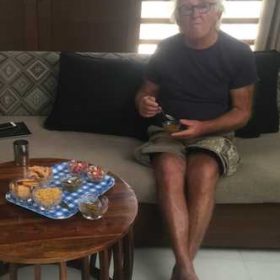 being a fan of Indian foods I am always keen but fearful of these sorts of occasions. Luckily, apart from one green corn looking dish, I liked the other snacks, ranging from tomatoes, lettuce and pomegranate mixed, to small sweet biscuits, and of course the Maggi.
Their house is so simple. Quite impressive from the outside, I was surprised to see the simplicity of the interior. There are the basics, tables, chairs, TV… but that's it. No stuff. Nothing. None at all! But the best bit about the whole house was the spectacular room we were shown for praying. Walls made from marble scenes taken from an old temple, and the central shrine, large and beautifully decorated. I'd never seen anything like it, it was a truly special room.
We continued our tea while watching the excitement of the young daughter who then left on a journey to her sisters house about 4 hours away, for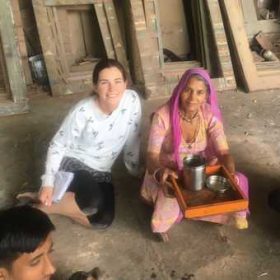 a 4 day visit. Her sister was married a year ago and is very much missed now that she lives with her husbands family. But we have been told she has settled in well and is enjoying her new life.
Then we headed to the factory.  It was fairly quiet at the factory, many of the office staff don't work on Sundays. But on route to the warehouse I was again invited for tea, this time in a very different setting, sat on the dusty floor with the workers and tea lady, Bhuri, from the factory. Seems they like their tea breaks as I do!
While at the factory we selected some more pieces and confirmed various other aspects of our order. We were also pleased to be offered a beautiful sideboard at a special price. You can read about this lucky purchase here.
SPECIAL OFFER NOT TO BE MISSED – AVAILABLE FROM JUNE 2018 – LIMITED STOCK – £260
Dad isn't so well today, just a cold, but I will dine alone tonight. Which I don't mind at all to be honest… will reply to some mails, catch up with the UK, read my book and play a little online scrabble…
K x